The Cabins at Disney's Fort Wilderness Resort are a wonderful resort at Walt Disney World that are considered a "moderate" resort, which is a step above the value and a step below the Deluxe Resorts. The Deluxe resorts also include Port Orleans' French Quarter, Port Orleans' Riverside, Coronado Springs, and the Caribbean Beach Resort.
We Love the Cabins at Disney's Fort Wilderness Resort
Our family loves The Cabins at Disney's Fort Wilderness Resort because you feel like you are camping out in the wilderness. Upon entering the resort, as you drive into guest parking, you see a quaint little building at the front of the Resort for guest check in, as well as horse stables and a slew of parked golf carts. The resort has quite a few fun activities for an additional cost. The golf carts are not a necessity, but they would be very fun to be able to drive around since the resort is so spread out. Some of the additional amenities located on property are a little spread out, making the golf carts a much appreciated extra.
Cabin Loops at The Cabins at Disney's Fort Wilderness Resort
All the cabins are spread out and located on different "loops" throughout the property. Think of it as mini versions of neighborhoods, where all the cabins are located along a certain "street" that makes a loop in the small area that they are located. Each cabin is separate and are located on the "streets" with around twenty per area.
Your Own Private Parking Spot!
Driving up to the cabin, you'll find your own personal parking spot for your vehicle, as well as stairs leading up to your private deck, complete with a picnic table and a small outdoor charcoal grill. Walking inside the cabin, you walk immediately into a decent sized kitchen and dining room. The dining room has a bench style chair on one side and individual chairs on the other side. The kitchen includes all of the necessities such as a full fridge, stove, and microwave. We bought all breakfast items for us to have breakfast at the cabin each morning, which helped us save some of our snack credits. To the right of the kitchen and dining room is a decent sized living room with two separate chairs, a coffee table, and a regular sized couch. The couch pulls out to a full-sized bed that can sleep either two adults or three children. There is a large flat screen TV mounted on the wall in the living room as well.
Individual Cabin Layout
To the left of the kitchen/dining area is a hallway that leads to the full bathroom that has a large counter with a single sink, toilet, and shower/tub combo. The cabin does have individual bottles of shampoo, conditioner, and body wash (H20 Products). The coolest part of the cabin is located past the bathroom. The bedroom has a queen-sized bed and twin sized bunk beds. This room sleeps up to 4 adults comfortably, and even more kids if needed. Our kids immediately ran into this room and were so excited to see that they were going to be sleeping in bunk beds. There is also a closet/storage area and a tv in this room as well.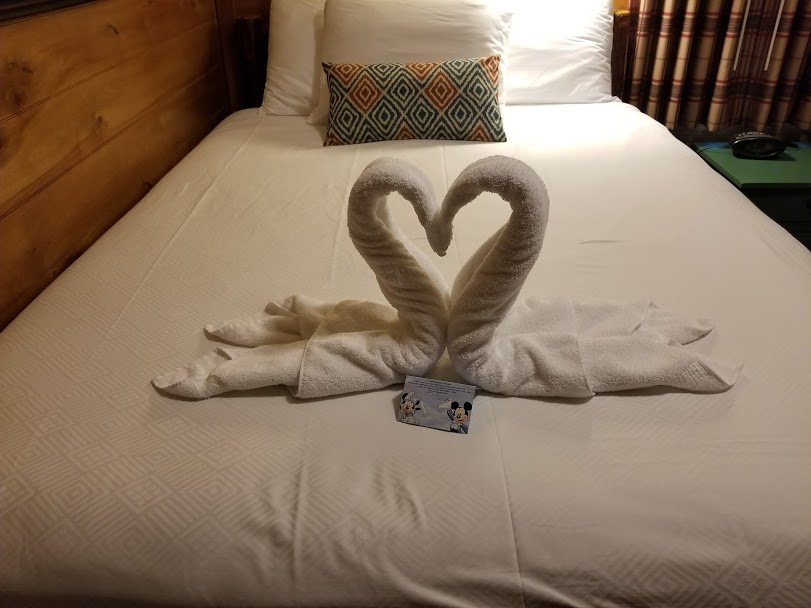 Extracurricular Activities at The Cabins at Disney's Fort Wilderness Resort
The Cabins at Disney's Fort Wilderness Resort offers a lot of extracurricular activities – and I mean, a lot. Throughout the resort there are jogging/walking trails, horseback riding, basketball courts, volleyball, wagon and carriage rides, an archery experience, an arcade, bikes, pools, and many other things. Due to the resort being located on the water, towards the back of the resort, you can also rent boats, canoes, kayaks, and can go on fishing excursions. It really is like being out on a Dude Ranch.
Dining at The Cabins at Disney's Fort Wilderness Resort
The food choices located on the property are a few different places, including snack windows like Meadow Snack Bar and Crocket's Tavern, but also include a quick-service restaurant – P & J's Southern Takeout and a table-service restaurant in Trails End. These restaurants serve food that you'd expect out in the American West – fried chicken, BBQ, and ribs. One of the unique dining experiences at The Cabins at Fort Wilderness Resort is called the "Hoop-Dee-Do Musical Revue." This is a Western song and dance show performed while guests enjoy their dinner. Reservations are required as this requires a ticket (price depends on where you sit in the hall) or two full-service meal credits to attend. Be sure to check out this highly ranked dinner show and event as seen on multiple reviews online.
In Conclusion
All in all, our family loved The Cabins at Disney's Fort Wilderness Resort. We felt like we were out camping/glamping in the woods, nestled among the trees, watching the birds and the squirrels enjoy their natural habitat. The park is located near the Magic Kingdom area of Walt Disney Resort, but friendly heads up, the only way to Magic Kingdom would be by your individual vehicle or boat at the rear area of the park. We learned this the hard way, when we sat and waited on the Magic Kingdom bus at the bus stop for nearly thirty minutes. After it never came, we were kindly told by other guests waiting with us that you have to take one particular bus to the back of the resort by the restaurant – then you took the boat to the Magic Kingdom. The boat ride was so much fun and was actually pretty quick. There were also only like 15 people traveling with us, so it was relatively secluded. We also got great views of the Grand Floridian, Contemporary, and private bungalows/villas at the Fort Wilderness Resort (separate from the Cabins at Fort Wilderness Resort).
What are Your Thoughts of The Cabins at Disney's Fort Wilderness Resort?
Have you stayed here at the Cabins before? If so, what was your experience? Let us know in the comments below! Also, don't forget to sign up for alerts and share this post with all of your Disney Fanatic friends!
Oh yeah, did we mention that we have an amazing community of Disney World Fanatics in our Facebook Group – Disney World Questions and Answers?  If you want to hang out with us and thousands of other Disney World Fanatics that are there to get all of your Disney World vacation questions answered, click here to join our FREE private Facebook Group!